/
June 25, 2022
/
Last Updated September 15, 2022
/
What makes my strawberry jam so easy? Just a few ingredients, a short cook time, and no canning. This is a jar of jam to make often and to love!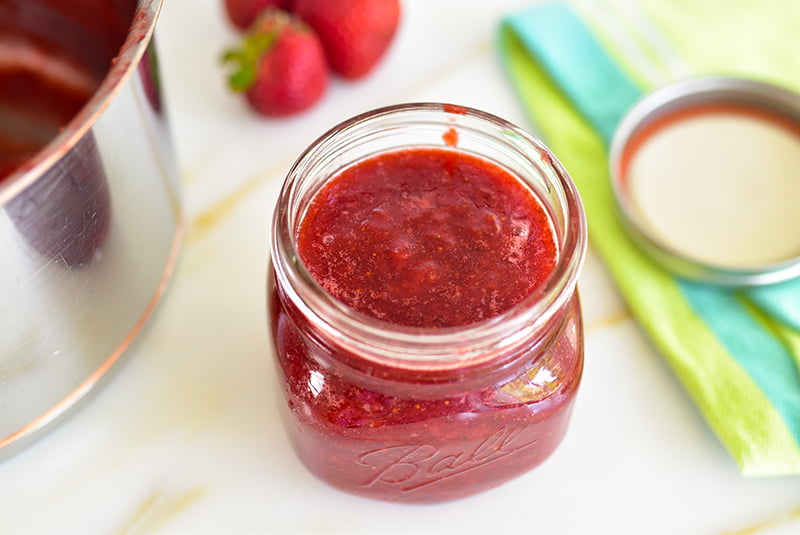 The depths of my love of a jar of homemade strawberry jam knows no bounds. Strawberries cooking on the stove hold the aroma and flavor that have launched a thousand of my own ships…the title of my original blog and cookbook was inspired as I inhaled the glory of strawberry rose sauce cooking in my kitchen in San Francisco during culinary school. My first blog post was a heartfelt story with Strawberry Rose Lemonade as its recipe.
Then a whole slew of strawberry recipes, pie and cookies and cake and more cake and still more cake.
I'm shocked that I don't already have a recipe here for the very easy strawberry jam that I love to make every spring. Here in northern Michigan, season comes mid- to late-June. I take a gentle touch with ingredients but always include rose water, which is a strawberry's twin sister, best friend, cousin, all.
What makes great Strawberry Jam?
Great berries make great jam. If you can get them in season, from a farmer's market or picked by your own hand (I'm saying it!), you're in for the best flavor of your life.
If purchasing from the grocery store, I always buy organic strawberries. They're on the "dirty dozen" list of "if you buy anything organic make it these." Ditto organic apples, but that's a story for another time (note this, I'm on the No Apples in Summer committee).
Ingredients for Strawberry Jam
Strawberries. See above.
Sugar. Cane sugar, granulated sugar, that's what my recipe calls for. Other sweeteners are possible, such as honey, but I have not tested.
Fresh Lemon Juice. Because all things fruit-sweet are better, in my humble opinion, with a tart note.
Rose Water. See above (rose + strawberry = perfect). Purchase pure rose water, which is distilled from rose petals. Rose extract? No. That is a flavor we avoid.
How Do I Hull a Strawberry?
I posted about this a looong time ago here. The short of it is this: don't cut the strawberry straight across the top, taking the precious flesh at the shoulders. Instead, angle a small knife tip in around the stem and cut it out like a plug. This way we get as much strawberry as possible to love.
Does the jam need to be "canned"?
Not this one, my friends. This is one jar of jam, easy peasy, that is kept in the refrigerator and eaten fast fast. The jam will hold in the refrigerator for weeks.
Simply cook the fruit with sugar, lemon juice, rose water until thickened, pour into a clean 1/2 quart jar, lid, fridge, done.
An easy way to test the thickness of your jam is to spoon some onto a plate and run a spoon through it. When the line made doesn't close quickly and leaves a track, you're there.
How to serve Easy Strawberry Jam
With a spoon sitting at your counter.
On fruit salad. Mix with orange juice and toss the salad with the dressing.
On berries. Mix chopped fresh strawberries and whole raspberries with the jam and allow to macerate (get juicy). Spoon over cheesecake, shortcake, biscuits, you name it. Top with whipped cream.
On toast.
On ice cream.
Filling for layer cake.
In Strawberry Jam Bars.
With a spoon sitting at your counter (on repeat).
My Recipes for Preserves
My Recipes for Strawberries
Strawberry Cake with Whipped Cream
Brioche Star with Strawberry Rose Jam
Strawberry Rose Fool. My Favorite Bakeless Sweet.
Strawberry Rhubarb Pie, a hint of Rose Water, & Mom's Best Crust
Cream Puffs with Strawberries, for Mom
Easy Strawberry Jam
This is so easy! And SO delicious. Simply cook strawberries with sugar and lemon juice until thick. No canning necessary! Keep your jar of jar in the refrigerator where it will stay nicely for weeks.
Ingredients
1 1/2

pounds

strawberries, hulled and cut into ½-inch pieces (3 cups)

1

cup

granulated sugar

Juice of 2 lemons

2

teaspoons

rose water
Instructions
Combine strawberries, sugar, and lemon juice in a large heavy saucepan. Bring to boil over medium-high heat, then reduce the heat to medium. Mash the fruit with potato masher.

Simmer until the mixture thickens. To determine if your jam is thickened properly, place a spoonful on a small plate and run the tip of the spoon through it. If the spoon leaves trail that does not fill in immediately, you're there. This takes anywhere from 15 to 25 minutes.

Remove the saucepan from the heat and stir in the rose water.

Transfer the jam to a 1/2-quart jam jar, allowing the jam to cool a bit before putting the lid on and refrigerating. The jam will hold for up to 3 weeks in the refrigerator.
(Visited 1,076 times, 1 visits today)
I'm so glad you're here! You'll find among these pages the fresh and classic Lebanese recipes we can't get enough of! My mission is to share my tried + true recipes -- and to help our Lebanese food-loving community keep these culinary traditions alive and on the table. What recipes are you looking for? Let me know!
Read More
Subscribe
Sign up for Lebanese recipes, tips, and info here