Classic Homemade Hummus Recipe
/
September 2, 2016
/
Last Updated March 17, 2023
/
The Best Homemade Hummus Recipe
This is Your Guide to the Best Homemade Hummus Recipe You Can Make or Eat. Because there are so few ingredients in homemade smooth hummus, each one has to be the best. Here are the tricks to getting your homemade hummus to come out smooth and luscious.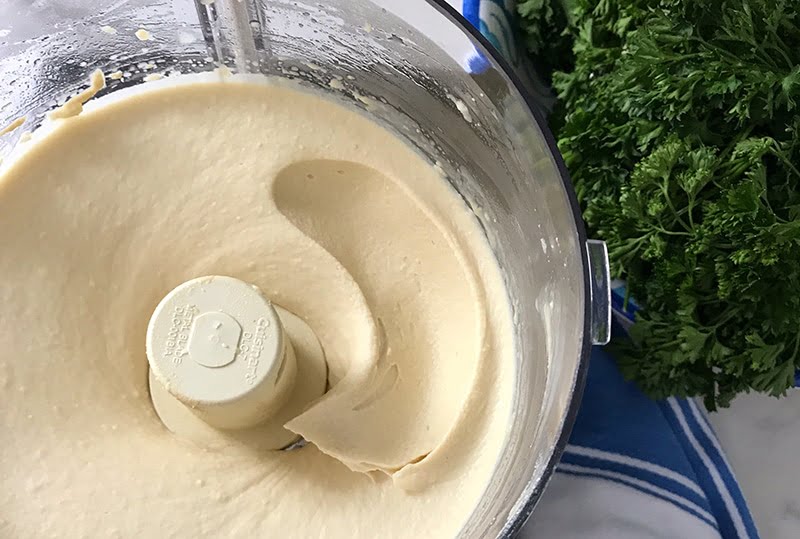 I've been talking, and making, a lot of hummus lately. I put it on the menu of the cooking classes I teach, and most every talk I've given since the launch of my cookbook has included at least a brief ode to hummus-love. Some people look up and nod in harmonious agreement. Others, a blank stare. Still others, the nervous laugh of "is this girl okay?!"
If only they could taste.
Hummus-talk surfaces in my casual conversation all over the place, as it did when I was talking with the food editor of the Washington Post at a conference last spring. I lingered on the delights of a thick, rich, ultra-smooth homemade hummus that requires that every one of its few ingredients be at the top of its game. Joe asked me to write this down for his people, Washington Post readers, which landed in the paper and an online chat.
Here's everything you need to know to make the ultimate homemade hummus:
Homemade Hummus Ingredients:
The chickpeas. Start with canned or dry chickpeas. For canned, drain and rinse. For dry, soak overnight, then drain and simmer in lots of water for a couple of hours until tender.
This next step with your chickpeas is KEY, so listen closely: chickpeas have an outer skin or peel that is the culprit of hummus that is grainy, and not at all smooth and luscious. It's a job to get the peels off of chickpeas, but it's worth it. Trust. See below to find out out it's done!
The tahini. We've all had bitter, sludgy, separated tahini. It's no good and makes hummus and anything it touches just okay, rather than luscious and delicious and a hummus you can't wait to make again soon. After tasting and testing enough tahini to fill Little Traverse Bay, I recommend Soom, Al Wadi, and Lebanon Valley (here!). Shake the jar occasionally. Your tahini will last more than a year in the pantry.
The lemon. Fresh-squeezed, nothing but. Period. The end.
The garlic. Fresh, hard heads of garlic are best. Get the green sprout out of your clove if there is one by cutting it in half lengthwise. An annoying but worth-it extra minute to avoid raw garlic burn.
The liquid. Use chickpea cooking (or canned) liquid for added body and flavor, or water. Either should be cold, and add it sparingly so your hummus is thick enough to make a well in the center with the back of a spoon, in which we'll drizzle olive oil and sometimes other toppings too.
The olive oil. Extra Virgin. Your best finishing oil thanks you for finally employing it here. Drizzle over top, not in the mix. We love EVOO from Lebanon (here!)!
A dash or two of salt is of course a must; add a little, then taste, then add more if needed.
Sumac spice or paprika sprinkled on top makes an authentic look and a gorgeous presentation.
How to make Homemade Hummus.
Prepare the Chickpeas. Start with canned or dry chickpeas. For canned, drain and rinse. For dry, soak overnight, then drain and simmer in lots of water for a couple of hours until tender. Warm the chickpeas in a sauté pan with a tablespoon of baking soda. Then immerse the warmed baking-soda-chickpeas in a huge bowl of water in the sink. Agitate, popping the skins off every chickpea you can grab. Pour off the water with the many skins. Repeat, and repeat again. Know too that there's another option here, which is the SKINLESS chickpea, the pre-peeled chickpea that you can find here. The skins are off, so the chickpea need only be simmered until tender for about 90 minutes. Viola.
Use a Food Processor. Hummus becomes smooth and lush when it is blitzed in a food processor. The blades are wide and they do the job perfectly. Does a blender work? Hmm. If there's no food processor in sight, this is the next best tool. The blender requires more stopping and scraping down as you go, to keep all of the hummus near the blades.
First blend the chickpeas and garlic. Before adding any liquid, get those chickpeas pulverized with the garlic. They'll break down better without the liquid there.
Slowly add liquids. This means lemon juice and a touch of cold cooking liquid or cold water. Hold back here, adding liquid slowly so as not to make the hummus too thin.
Stop and scrape it all down. It's a pain, but do stop frequently as the hummus blends and scrape down the sides of the bowl or blender. You'll get any little pieces of chickpea or garlic blended in this way. If you wait until the end to scrape down the bowl, your gorgeous smooth hummus will get grainy from the pieces that weren't blended in earlier.
One last thing: share! Especially with me! I'd love to see a constant stream of smooth, delectable hummus photos flooding our social media. How should we tag it?
#hummusaddict? True, but harsh. I'm thinking this: #hummuslove. Yours and mine.
FAQ and Tips for Making the Best Hummus ever!
Substitutions: Some recipes will call for other legumes than chickpeas. Black or cannellini beans, for example. These make a delicious dip. They don't make hummus! "Hummus" is the Arabic word for "chickpea," so…chickpeas are necessary if we're calling our recipe "Hummus"!
Make ahead? Sure, hummus refrigerates for at least a week. Just be sure to "reconstitute" the hummus by allowing it to come to room temperature, then give it a vigorous whip with a whisk or stir with a spoon. Add a touch of lemon juice or water, if needed, to help smooth it out.
Can I make hummus by hand? Hummus has been around in Lebanese cuisine for a looooong time, long before any Sitto had a food processor or blender. They used a mortar and pestle to break down the chickpeas and create that smooth hummus texture. You can do same. No mortar and pestle? Try a potato masher. The end result may not be as smooth as the other methods, but you'll still have a delicious hummus to devour.
Authentic Homemade Hummus Recipe
The key to smooth, luscious hummus is to make every ingredient the best it can be. Peeled chickpeas are essential to the texture of your hummus, which you can get here. To skin your own canned or cooked chickpeas, saute the chickpeas over medium heat with a touch of baking soda, then put them in a bowl with lots of water. Agitate and rub the chickpeas with your fingers and pour off the water with skins; repeat several times. This recipe is adapted from my cookbook, Rose Water & Orange Blossoms: Fresh and Classic Recipes from My Lebanese Kitchen.
Ingredients
2

cups

cooked skinless chickpeas (they take about 2 hours to cook properly from dry)

1

clove

garlic, green sprout removed and minced

1/2

teaspoon

kosher salt

Juice of 1 lemon

Chickpea cooking liquid, or cold water, as needed
Instructions
In the bowl of a food processor, puree the chickpeas and garlic until a thick paste forms. Give this a couple of minutes (longer than you'd think), to get the chickpeas very well pureed. With the machine running, add the tahini, salt, and lemon juice. Taste and see if you'd like the hummus thinner or lighter. If so, Slowly add cold cooking liquid or water, a tablespoon at a time, until the hummus is very smooth and light but still thick (again, process a little longer than usual). Taste and adjust with salt and lemon juice as needed.

Spoon the hummus onto salad plate or bowl, spreading the hummus with the back of a spoon to form a well in the center. Drizzle with olive oil and sprinkle with sumac, and serve immediately.
Save
Save
Save
Save
Save
Save
Save
(Visited 80,076 times, 1 visits today)
I'm so glad you're here! You'll find among these pages the fresh and classic Lebanese recipes we can't get enough of! My mission is to share my tried + true recipes -- and to help our Lebanese food-loving community keep these culinary traditions alive and on the table. What recipes are you looking for? Let me know!
Read More
Subscribe
Sign up for Lebanese recipes, tips, and info here