/
February 2, 2022
/
Last Updated January 19, 2023
/
Find out more about how to use  rose water in cooking and baking! We love this  special Lebanese culinary tradition. Find pure imported flower waters in my shop here.
We just HAVE to kick off February and spring with an ode to the beautiful Lebanese tradition of baking with flower waters. Their  flavor is iconic, a part of the taste memory we hold onto always. We love this special Lebanese culinary tradition for the floral flavor notes that enhances recipes when flower waters are used correctly to maximize their presence.
⁠What is Rose Water?
💗 Rose Water is a pure distillation of rose petals, not to be mistaken with rose extract (which tastes totally different and inferior). ⁠
Why use rose water?
💗 Rose water tastes of roses! A little goes a long way. Just a few drops enhance flavors like red berries, baklawa syrups, preserves.⁠
How do you store rose water?
💗 A bottle of rose water lasts a looong time. That's because, well, see above. ⁠After a year or so your rose water may lose strength off aroma and flavor, but it is still safe to use. Store rose water at room temperature in the pantry, same way you would store vanilla extract.
Here are few favorite recipes using rose water:
⁠
Lemon Bundt with Raspberry Rose Glaze.
Raspberry Rose Cream Heart Scones.
Strawberry Rose Cheesecake with Labneh.
Dark Chocolate Cake with Raspberry Rose Cream.
Semolina Coconut Cake with Sugared Rose Petals.
Glazed Yeasted Ka'ik with Rosewater Glaze.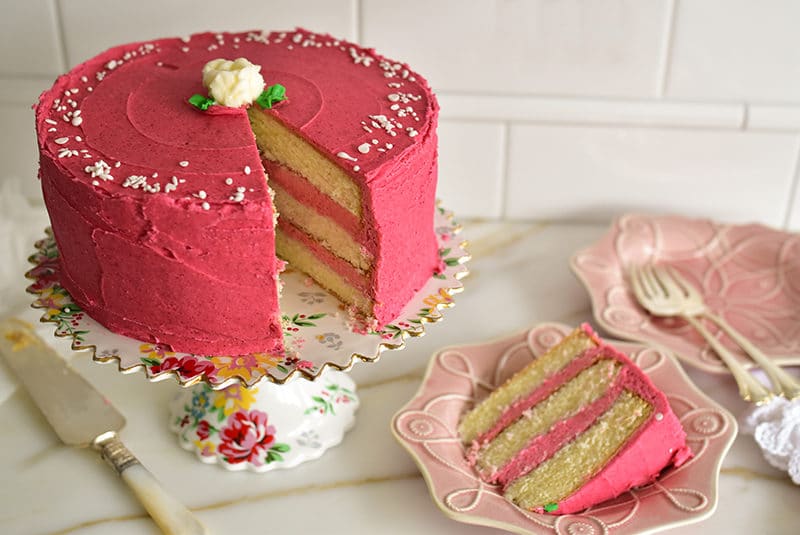 Strawberry Rhubarb Pie with a hint of rose water and My Mom's Best Pie Crust.
Where to buy the Best Rose Water:
I'm proud to share the finest flower waters available in my shop, imported from Lebanon–find them here. Every well-stocked pantry includes flower waters! ⁠
(Visited 1,528 times, 1 visits today)
I'm so glad you're here! You'll find among these pages the fresh and classic Lebanese recipes we can't get enough of! My mission is to share my tried + true recipes -- and to help our Lebanese food-loving community keep these culinary traditions alive and on the table. What recipes are you looking for? Let me know!
Read More
Subscribe
Sign up for Lebanese recipes, tips, and info here