Lebanese Stuffed Eggplant
/
September 15, 2017
/
Last Updated May 2, 2023
/
Lebanese stuffed eggplant, or eggplant boats, is the traditional way to make Sheik al mehsheh, a meal "fit for a king"! The filling is a savory combination of ground beef or lamb with onions and seasoned with cinnamon. This dish is easily made ahead, as well as casserole-style, with my recipe for Sheik al Mehsheh.

For some reason, our Lebanese eggplant, or Sheik al Mehsheh, has always been made by my mom as a layered casserole. Aunt Hilda, she loved to make her eggplant in the traditional stuffed Lebanese eggplant boats. The layered version is luscious, given lots of bake-time to meld the spiced meat/onion/tomato/eggplant flavors in a most delectable way. The boats . . . well, my brother Chris has on occasion told the story of eating them at Hilda's for dinner with Ruth, and every time he looked down at his plate there was more eggplant boat there. Ruth was piling it on to Chris when nobody was looking, while she went for the savory filling in hers and his.
Aunt Hilda loved her version, though, and would say as only she could: "Your mother makes delicious sheik al Mehsheh. Delicious. But that's not how the Aboods do it. That's not how I do it, honey." In other words: mine is better, honey.
There was no question for her, or for me, that the boats look better. They're distinct, tidy, and make it clear that you're eating Lebanese eggplant boats and not Italian lasagna. (For Dan, this is not a good thing, since he's "allergic" to eggplant. He'd rather the eggplant be indistinguishable, even if he's not eating any. Because he's allergic.)
In culinary school, we had many assignments asking us to make a familiar dish new in some way. I went for the eggplant boats, thinking I'd impress with a broad soup bowl with three filled halves, tomato sauce, and topped with the sautéed meat and onions and a dollop of labneh. I thought I'd cook the components separately to maintain the eggplant's color and shape better. I thought it would be great. I had bragged up how delicious this dish is without realizing how important the long bake time is, how essential the melding of flavors. Chef loved how they looked but the message was: keep trying.
Which I did not, believing in my soul that the boats are simply an inferior Lebanese eggplant dish not at all worth my time. But I've wondered about them even as I relegated them, especially as I've perused the beautiful smaller eggplant at the market (not super small, just a little smaller than the globes).
Not to mention all of the boats we have going in our lives up north on Little Traverse Bay. Every day it's a question of the boat rides relative to the temperature, the wind, the timing, and etc. Recently we were awaiting my brother Tom's arrival across the bay by boat. I said to Chris as we looked way out there, hey, is that Tom? He looked at me in total disbelief that I couldn't distinguish Tom's boat from the boat in question.
He said this deficit must be a matter of interest, and I'm just not interested enough to know. He wouldn't know a brioche from a babka, he said.
What? I love boats (okay, maybe not as much as he does, but do see this and this and this and this and this) and he loves bread (no, not as much as I do). I guess it's not that different from back when I was in junior high and cursing all that is geometry. He told me then that I must not have been that interested in doing well, and if I did want to do well, I had to apply myself, getting after the real homework in a real way every day, and I would get an "A." He bet me $10 I could do it. (I know, what a cool brother, going all the way back. Today, he operates on brains and other interesting things like that)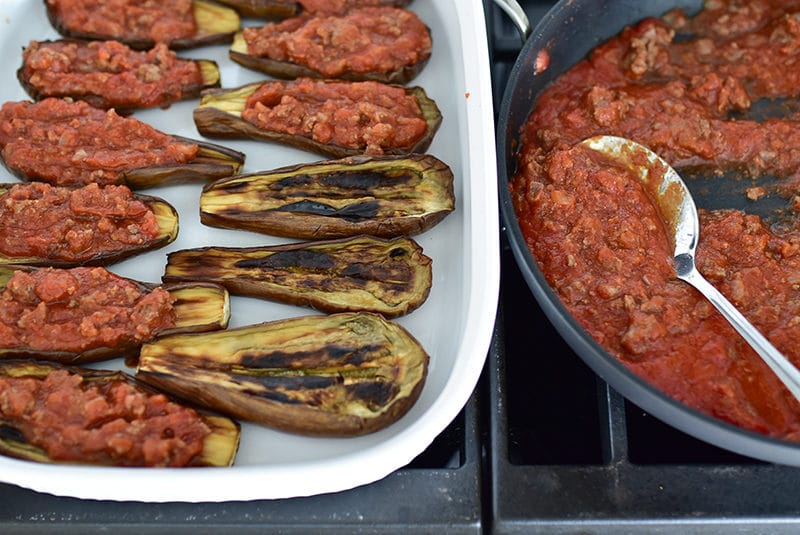 I did the math. I got the "A" (and the $10). And of course, my brother's nod of approval, which was worth a lot more to me than the grade or the cash. And so: the eggplant boats. I did the homework, applied what I know, and here we are with a dish equally as good as my mom's, one that nobody's going to pass off to someone else's plate.
---
More Eggplant Recipes
Sheik al Mehsheh: how eggplant healed a heart and always welcomes us home!
Lebanese Baba Gannouj (baba gannoush), smokey eggplant dip
---
Lebanese Stuffed Eggplant Recipe
Lebanese stuffed eggplant boats are the traditional way to make Sheik al mehsheh, a meal "fit for a king"! Serve the eggplant over a bed of cinnamon-scented rice with a crisp, lemony romaine salad on the side. This dish is easily made ahead by a day or two and refrigerated before baking (or bake, cool, refrigerate for up to two days, then reheat covered in a 350 degree oven), or frozen (thaw overnight in the refrigerator before baking or reheating).
Ingredients
6

medium

eggplant, about 8 x 3 inches

3

tablespoons

extra virgin olive oil, divided

1

small

yellow onion, diced

1

clove

garlic, minced

1/2

pound

ground beef (round) or lamb

1/4

teaspoon

cinnamon

Kosher salt, to taste

Freshly ground black pepper, to taste

1

28 oz.

can tomato sauce

3

tablespoons

toasted pine nuts

1

large

ball fresh mozzarella cheese, torn in small pieces (optional)
Instructions
Slice the eggplant in half lengthwise and arrange on a foil or parchment lined sheet pan, cut side up. Brush the cut sides with a tablespoon of the olive oil and sprinkle lightly with salt. Place the pan under the broiler on a rack about 3 inches from the broiler, and broil until the tops are deep golden brown. Remove from the oven and set aside.

Move a rack to the center of the oven and heat the oven to 375 degrees F.

In a medium sauté pan, heat the remaining olive oil over medium heat. Sauté the onion with a pinch of salt until translucent and cooked through, but not browned. Add garlic and saute just until fragrant, about 30 seconds. Add the ground meat, sprinkle with cinnamon, more salt, and pepper, cooking and breaking up the meat into small pieces until it is juicy and browned.

Add half of the tomato sauce (we're using the rest shortly), bring to a simmer, and cook over low heat for about 10 minutes, or until the sauce takes on a meaty, flavorful taste. Taste and add more cinnamon, salt, and pepper if needed.

Arrange the eggplant halves in a large casserole or lasagna pan. Using a sharp knife, cut a slit lengthwise down the center of each half and push the eggplant from either end to open the slit slightly for the filling.

Spoon the cooked tomato meat sauce into the slits and mount on top of each eggplant half. Then, in the same saute pan, heat the remaining tomato sauce with ½ cup water and season lightly with salt, pepper, and cinnamon. Simmer for about 5 minutes, then spoon the sauce into the casserole around the eggplant.

Cover the casserole tightly with foil and bake for about 90 minutes. If you're short on time, a shorter baking time is fine, but try to keep it in the oven for an hour. Toward the end of baking time, remove the foil and place the mozzarella pieces over each boat. Continue baking until the cheese is melted, about 5 minutes.

Remove the casserole from the oven, sprinkle with the toasted pine nuts, and serve after the eggplant rests for about 10 minutes.
Save
(Visited 13,536 times, 1 visits today)
I'm so glad you're here! You'll find among these pages the fresh and classic Lebanese recipes we can't get enough of! My mission is to share my tried + true recipes -- and to help our Lebanese food-loving community keep these culinary traditions alive and on the table. What recipes are you looking for? Let me know!
Read More
Subscribe
Sign up for Lebanese recipes, tips, and info here