When I was in graduate school at Michigan State studying literature, one of my professors was the poet Diane Wakoski. She was widely known to be an exacting teacher of poetry writing, holding students to a standard they had not before experienced and expressing that standard with, shall we say, little sympathy for mediocre writing. In other words, her classes terrified students. For reasons we need not analyze today, I responded well to this approach. I wrote plenty of poems that were unremarkable. Then one week, must have been early fall or a summer term, I wrote about tomatoes.
The poem was not perplexing to read in any way; it was a narrative poem, which means it read more like a little story with lines broken up to distinguish it as 'poetry.' And yet this was the poem Professor Wakoski found acceptable. She announced to the class that many a good poet writes a tomato poem (who knew?), and she said a few things about mine that ventured away from the tyrannical and toward the positive. I was mostly relieved but also triumphant—in the days of graduate study, any bone thrown was eaten voraciously—knowing that tomatoes rather than literary theory were along the lines of what I'd like to write about forever more. Tomatoes (like coosa and apricots and strawberries and rose water) were, I was discovering, the vehicles that would carry my mind and writing to territories I longed to explore. I'll have more to tell you about poetry and Lebanese food when we make kibbe, sometime soon.
As I reread the poem in light of Monday's tomato post, it strikes me as kind of funny that I end up with tomato juice on my dress, whereas my father kept his white dress shirt clean. Anyway, I beg your patience as I post the tomato poem from another chapter in my life—Maureen at 23 recollecting Maureen as a child—and of course a recipe for one of the finest ways to eat tomatoes in summer if not directly off the vine: Lebanese tomato salad. Consider this less of a recipe than it is a sketch of what belongs in a Lebanese tomato salad. Rely on your sense of taste to guide you. You'll combine the few simple ingredients, taste, and ask yourself is your life changed yet? If not, adjust seasoning and taste again.

Tomatoes Calling
Just brought home
from the market of August
the tomatoes take the seat of a queen
in their own bowl on the table.
These are not nice, quiet tomatoes.
Since they left their brown bag,
they have moaned my name,
haunting the house crevice-deep.
I thought eating the tomatoes
would silence them,
but the firm flesh on my tongue
resonates, dissolves the layers of my life,
and here I am a child
standing in the backyard garden
where tomato vines entwine wildly,
curling above my head,
and close to my cheek
hangs the ripe fruit.
I stare at this perfect red tomato
and I know I must pluck it,
and take it home.
When my fingers can't loosen
the tomato's stubborn green stem
and the leafy tickle becomes unbearable,
I dig my white sneakers deep into the soil,
turn my face in a reach
and bite through the juicy flesh,
letting seeds run down my chin,
letting red cover the front
of a blue plaid sundress.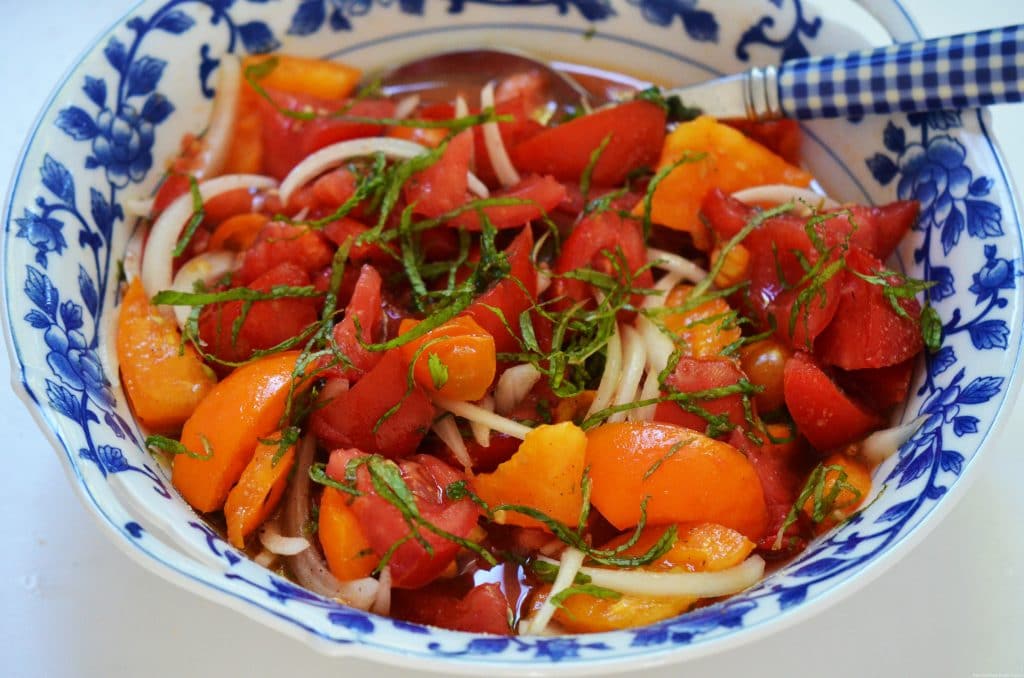 This salad takes a hefty amount of mint to get that flavor to shine through. Don't be shocked about the garlic powder…trust me that it's delicious in this. Eat the salad with thin flatbread or thin pita bread; you just pick up the salad with a small piece of bread and eat the little bundle, Lebanese style. You may want a spoon to get all of the juices into your mouth when the tomatoes are gone.
2 lbs. summer tomatoes of any shape, size or color
1 medium sweet onion, thinly sliced
25 leaves of nana, spearmint
Freshly squeezed lemon juice from 1 lemon
2 tablespoons extra virgin olive oil
½ teaspoon garlic powder
salt and pepper to taste
To slice the tomatoes, use a serrated knife. Cut them in half and cut out the cores. Slice the tomatoes in somewhat irregular, bite-sized slices rather than in perfect, commercial-looking slices.
The mint can be torn into small pieces or sliced chiffonade style in thin ribbons. To chiffonade the mint, lay about 10 of the leaves at a time on top of one another and roll them up from the short end. Hold the leaf roll together with one hand and slice off very thin pieces with a sharp chef's knife.
Place the tomatoes, onions and mint in a bowl. Add the lemon juice, olive oil, garlic powder, salt and pepper. Combine, taste, and adjust seasonings as needed.
Find a PDF of this recipe here.
An Up North favorite is Pond Hill Farm. The place just continues to amaze, from piglets and organic popcorn and squash rockets to wine tasting, harvest dinners, and barn dances. Not to mention the tomatoes.